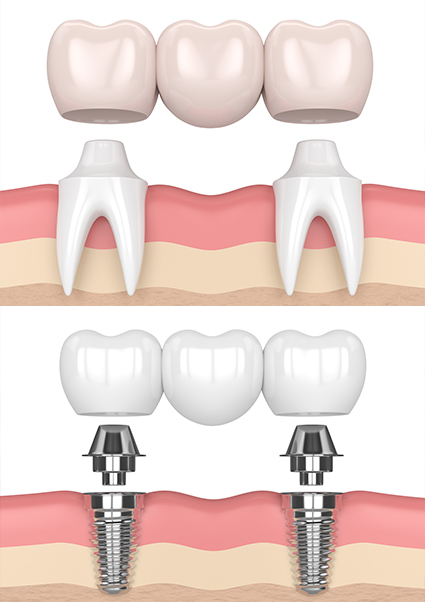 Fixed Bridges
A dental bridge is a permanent and excellent way to bridge the gap created by missing teeth. There are several types of bridges and your best option will be discussed with your dentist before moving forward. Traditional bridges involve creating a crown for the tooth or implant on either side of the missing tooth. Traditional bridges are the most common type of bridge and are made of porcelain fused to metal. Porcelain bridges are highly durable and will last many years.
Reasons for a fixed bridge:
Correct gap caused by missing teeth
Maintain shape of face and jaw
Prevent remaining teeth from drifting out of position
Restore chewing and speaking ability
Restore your smile
Upgrade to a permanent solution to replace removable dentures
What to expect…
During your first visit, the teeth are prepared by removing a portion of enamel to allow room for a crown to be placed over them. Next, impressions of your teeth are made, which serve as a model from which the bridge will be made. Your dentist will make a temporary bridge for you to wear while your permanent bridge is made at the dental lab. At the second visit, you permanent bridge will be securely fit to your mouth. Sometimes adjustments will need to be made to ensure the best fit and comfort. You will receive after care instructions and regular checkups are recommended.