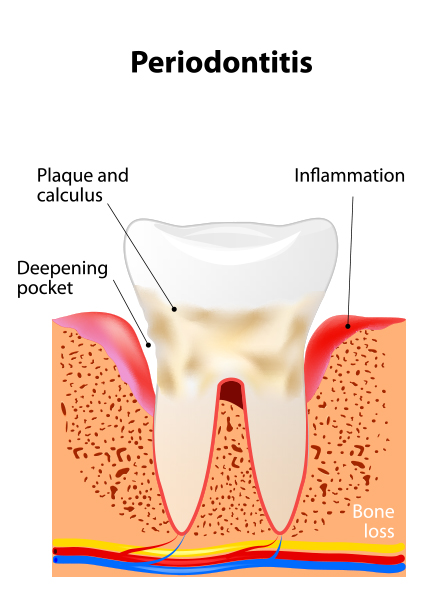 Diagnosis
A regular dental check-up will include a periodontal examination to determine if you are at risk for periodontal disease. A small metal instrument is gently used to measure the space between the tooth and the gums called a sulcus. The depth of a healthy sulcus measures three millimeters or less and does not bleed. If periodontal disease is present, the pockets will be deeper. Types of Gum Disease include:
Gingivitis
The first stage of periodontal disease is Gingivitis. Plaque and its toxins irritate the gums, making them tender, inflamed, and likely to bleed. Gingivitis is reversible with professional treatment and good oral home care.
Periodontitis
Untreated gingivitis can advance to periodontitis. With time, plaque can spread and grow below the gum line. Toxins produced by the bacteria in plaque irritate the gums. The toxins stimulate a chronic inflammatory response in which the body in essence turns on itself, and the tissues and bone that support the teeth are broken down and destroyed. As calculus and plaque continue to build up, the gums begin to recede from the teeth. Deeper pockets form between the gums and teeth and become filled with bacteria and pus. As the disease progresses, the pockets deepen and more gum tissue and bone are destroyed. Often, this destructive process has very mild symptoms. However, once the teeth become loose they may need to be removed.
Advanced Periodontitis
The teeth lose more support as the gums, bone, and periodontal ligament continue to be destroyed. Unless treated, the affected teeth will become very loose and may be lost. Moderate to severe bone loss may also be present.