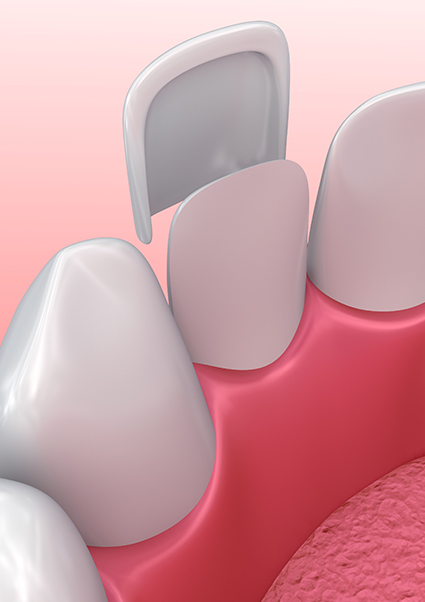 Porcelain Veneers
Porcelain veneers are made from a very thin layer of porcelain and have a translucent quality which allows light to be transmitted through them easily, causing a very beautiful and natural appearance. You will never see a dark line with porcelain veneers like you can with some types of crowns. They are very durable and you will be able to enjoy your beautiful new smile for many years.
Reasons for porcelain veneers:
To create a perfect, beautiful smile
Crooked teeth
Misshapen teeth
Severely discolored or stained teeth
Misshapen teeth
Misalignment or gaps in teeth
Worn or chipped teeth
What does getting porcelain veneers involve?
Porcelain veneers fit snugly on the front of teeth, requiring only conservative preparation and minimal tooth reduction. They can be placed in as little as two visits! The teeth are prepared by lightly buffing and shaping the surface to allow for the thickness of the veneer. Porcelain veneers are very thin and a minimal amount of the tooth needs to be removed. The procedure usually requires little or no anesthesia. A mold of the teeth is taken and a shade (color) will then be decided upon. On your next visit, your teeth will be cleaned and covered with special liquids to achieve a durable bond. After being bonded to your teeth, your custom made veneers will look, feel, and function just like your own teeth, creating a natural-looking smile.